More than 3 million COVID-19 confirmed worldwide...Hot spots are also easing.

More than 3 million people have been confirmed to be infected with the new coronavirus.

However, in New York, Italy, and Spain, which are considered "hot spots" of COVID-19, the spread has slowed down a bit, and they are gradually easing the blockade.

On the other hand, the number of confirmed cases in Africa and Latin America has rapidly increased, raising concerns that poor medical conditions could increase the size of the damage.

The number of confirmed global patients has exceeded 3 million in 118 days since China reported the outbreak to the World Health Organization (WHO) on Dec. 31.

The global spread of COVID-19 began to steep sharply in the middle of last month, surpassing 1 million on the 2nd, 13 days later on the 15th of this month, and reached 3 million on the same day, 12 days later.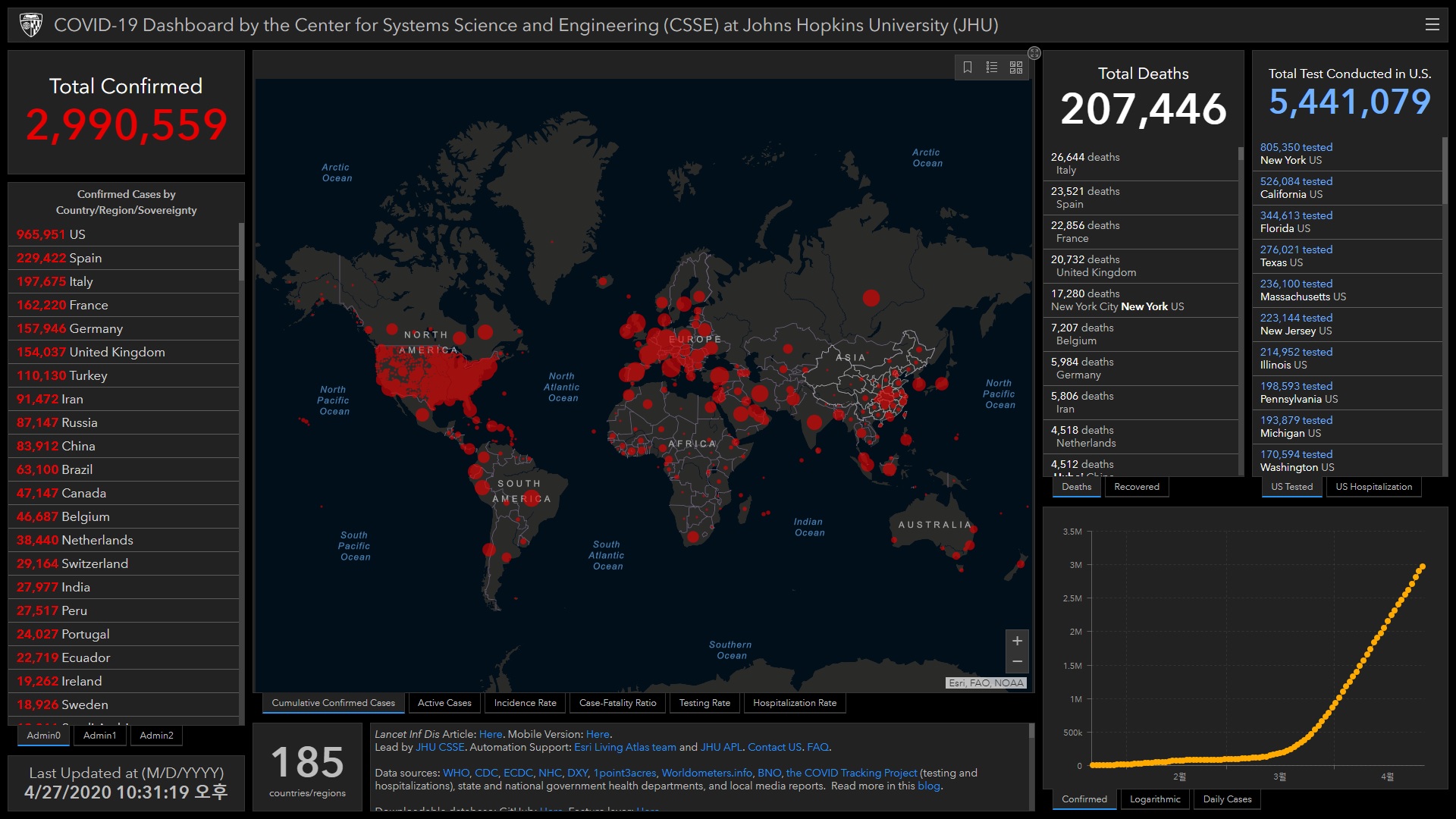 ◇ The U.S. is about to have 1 million confirmed patientsNew York is also set to normalize.

According to World Ometer, a real-time statistics website, the number of confirmed cases of COVID-19 worldwide stood at 3003,85 as of the 27th, with 207,090 deaths.

In the U.S., the cumulative number of confirmed patients reached 987,322 and is close to 1 million. The death toll rose by 1,100 from the previous day to 55,415.

The daily number of newly confirmed patients stood at 26,509, slightly down from 32,500 on the 18th of this month.

In Georgia and Oklahoma, some industries, including beauty salons and gyms, have already started operations, while New York, which was hit hardest, also announced a phased restart plan after the 15th of next month.

New York Gov. Andrew Cuomo explained that he would start with low-risk projects in the manufacturing and construction sectors, and gradually allow more operations to open in consideration of the risks and imperatives of the project.

New Jersey, which is the second-largest blow after New York, also hinted at the possibility of an economic resumption.


◇ Italy, Spain, and Stabilization are clear...stepwise normalization movement

Italy and Spain, which suffered the most damage after the U.S., also have a clear stabilizing trend, with daily deaths falling sharply.

Italy's COVID-19 death toll rose 260 from the previous day to 26,644, with the daily death toll falling to the 200 mark in six weeks.

Spain, which has the second highest number of COVID-19 deaths in Europe after Italy, also saw its daily death toll drop to a five-week low.

Spain's COVID-19 death toll rose 288 from the previous day to 23,190, the lowest daily death toll since the 20th of last month.

The number of newly confirmed patients in both countries also remains around 2,000.