1. Mass infection in Wuhan Handongne, China - Concern over the re-proliferation of COVID-19
A case of mass infection has been found in a neighborhood in Wuhan, China's Hubei province, known as the origin of the new coronavirus infection, raising fears of re-spreading.
In particular, the Chinese government is on alert as it often develops into a confirmed case in Wuhan, where people with an asymptotic infection who are not included in official statistics as confirmed patients of COVID-19.
According to the official website of the Wuhan Sanitary and Health Commission on the 11th, five more patients were infected with COVID-19 in Wuhan for one day the previous day before.
It is noteworthy that all five of them came from the Sanmin neighborhood on Changqing Street in Dongshihu District, Wuhan.
Wang, an 81-year-old woman who was confirmed to be COVID-19 on Thursday, is the wife of Ko, who was confirmed on Tuesday. All of them live in the Sanmin neighborhood.
When her husband Ko tested positive for nucleic acid, Wang was classified as a close contact and quarantined, and was reported as an asymptotic infection after undergoing a nucleic acid test. He was later diagnosed with COVID-19 on Thursday as his condition worsened.
Another confirmed case in the Sanmin neighborhood, the 76-year-old man surnamed Jang, was diagnosed with an asymptotic infection after receiving medical treatment at a nearby People's Hospital on May 5 due to his illness, but was confirmed to be COVID-19 on Saturday.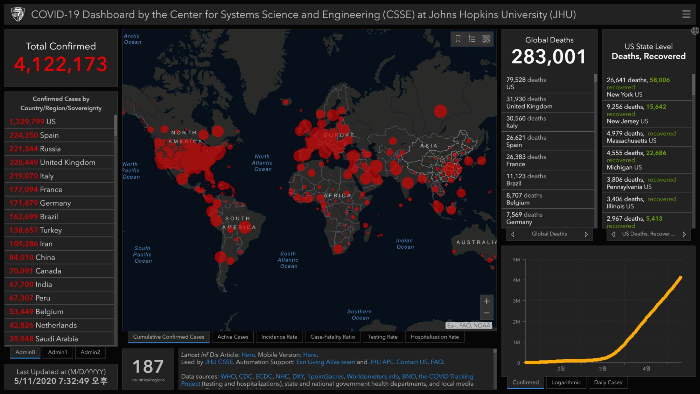 2. Over 220,000 people infected with COVID-19 in Russia - "World's Third-largest"
Russia's cumulative number of new coronavirus infections (COVID-19) exceeded 220,000 on the 11th (local time).
The cumulative number of confirmed cases increased to the third largest in the world as of the morning of the day, with more than 10,000 new patients for the ninth day.
On the same day, the Russian government's Korona 19 inflow and proliferation prevention headquarters said, "Over the past day, 11,656 additional confirmed cases have been reported in 84 regions across the country, including Moscow," adding, "The cumulative number of confirmed cases has increased to 221,344."
The cumulative number of infections rose to 115,909 with 6,169 additional confirmed cases in the capital Moscow alone.
In addition, 1,79 new confirmed cases were reported in Moscow, outside Moscow, 307 in St. Petersburg, the second city, and 291 in the central city of Nitungolod.
COVID-19 deaths across the country rose to 2,009 with 94 added over the day.
The government's task force said 39,801 of the confirmed patients have been completely cured so far, with 5,495 discharged in the past day alone.
The number of examinations recorded 200,000 in one day, up from 5.6 million in total.